Recycle mobile phone
Recycle your old phones, smartphones, mobile phones etc. with NamiGreen
RECYCLE PHONES AND TELECOM EQUIPMENT

Below you find some of the e-waste categories that NamiGreen recycles in our Phone recycling programme:
Mobile phones
Smart phones
Feature phones
Hands-free headsets
Landline phones
Two-way radios
Wireless broadband
Telecom equipment
Telecom switchboards
As we continue to develop technologically in this modern age, there is an increasing amount of tech-based waste. As we rapidly change the technology we use, with the latest mobile phone models coming out multiple times each year, the surplus devices stack up. The average user life of a new mobile phone is only 24 months. But did you know that your old mobile devices can be recycled, rather than chucked away in the normal waste, or left gathering dust in a drawer?
Why it is a good idea to recycle your old mobile phone
The US Environmental Protection Agency claims that 141 million mobile phones were discarded in 2009, with only 12 million of these offered up for recycling. This could be taking its toll on the environment, with an estimated 70% of heavy metal landfill waste coming from discarded electronics. Not only is this a waste, by this electronic scrap also accounts for 70% of the toxic waste found in American landfill sites. Recycling your phones cuts down on this unwanted toxic waste.
How to recycle your old mobile phone
What's more, recycling your old devices is actually extremely easy. Not only will you be doing your bit to cut down on toxic waste, but you can do it all from the comfort of your own home. You can do this by using recycling services such as NamiGreen.
Where to recycle your old mobile phone
NamiGreen is an e-waste company dedicated to keeping the environment of Namibia, Africa as green and healthy as possible. We do so by using drop-off points and e-waste collection bookings in order to collect your old mobile phones and ensure they are recycled and reused in the best possible ways.
When to recycle your old mobile phone
You can recycle your mobile phone whenever you want, as long as you have no further use for it. The important thing is to prevent it from ending up in a landfill site.
If your company/organization wish to recycle your e-waste, book us for picking up your e-waste.
If you wish to work with NamiGreen or have electronic waste for recycling, please contact us.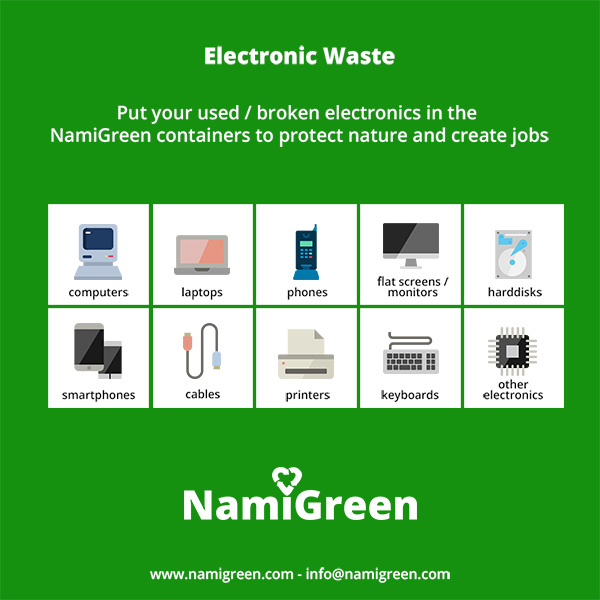 NamiGreen E-waste affiliations